Books by Bryan Davis
Children of the Bard
Song of the Ovulum
From the Mouth of Elijah
Tales of Starlight
Masters & Slayers
Third Starlighter
Exodus Rising
Dragons of Starlight
Starlighter
Warrior
Diviner
Liberator
Novel
I Know Why the Angels Dance
Echoes from the Edge
Beyond the Reflection's Edge
Eternity's Edge
Nightmare's Edge
Oracles of Fire
Eye of the Oracle
Enoch's Ghost
Last of the Nephilim
The Bones of Makaidos
Dragons in Our Midst
Raising Dragons
The Candlestone
Circles of Seven
Tears of a Dragon
Non-Fiction
Spit and Polish for Husbands
The Image of a Father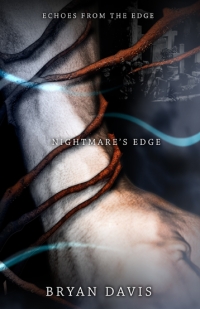 Nightmare's Edge
First Chapter ~ PDF (103 KB)
Purchase from Bryan Davis
Purchase from Amazon
Purchase from CBD
Nightmare's Edge
Echoes from the Edge - book 3
In the final installment in the Echoes from the Edge series, one man alone knows the secret that can save the three Earths from imminent destruction. But, trapped in a dream world where nightmares come alive, this man requires saving. When Kelly sacrifices herself on Nathanís behalf during a rescue mission gone bad, and with the murderous stalker Mictar dogging his steps, Nathan is faced with a formidable task: find this mysterious man and Kelly, and heal the cosmic wounds before the three dimensions collide. With billions of lives hanging in the balance, failure is not an option.
Echoes from the Edge series:
His fast-paced adventure fantasy trilogy starts with murder and leads teenagers Nathan and Kelly out of their once-familiar world as they struggle to find answers to the tragedy. A mysterious mirror with phantom images, a camera that takes pictures of things they can't see, and a violin that unlocks unrecognizable voices Ö each enigma takes the teens further into an alternate universe where nothing is as it seems.
Find out what happens when good battles evil in an alternate universe.