Books by Bryan Davis
Children of the Bard
Song of the Ovulum
From the Mouth of Elijah
Tales of Starlight
Masters & Slayers
Third Starlighter
Exodus Rising
Dragons of Starlight
Starlighter
Warrior
Diviner
Liberator
Novel
I Know Why the Angels Dance
Echoes from the Edge
Beyond the Reflection's Edge
Eternity's Edge
Nightmare's Edge
Oracles of Fire
Eye of the Oracle
Enoch's Ghost
Last of the Nephilim
The Bones of Makaidos
Dragons in Our Midst
Raising Dragons
The Candlestone
Circles of Seven
Tears of a Dragon
Non-Fiction
Spit and Polish for Husbands
The Image of a Father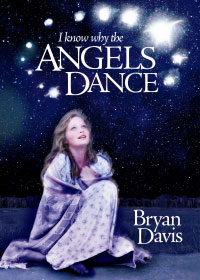 I Know Why the Angels Dance
First Chapter ~ PDF (298 KB)
Purchase from Bryan Davis
Purchase from Amazon
Purchase from CBD
I Know Why the Angels Dance
When the darkness of unspeakable tragedy collides with the infinite glory of heaven, what happens? What salve can heal the deepest of wounds when dawn breaks and the nightmare is real? What words can console a grieving father or mother when the blossom of the womb fades and falls? Images of hope, soft words that set the mind at ease, beautiful memories brought home by a beautiful story.
I Know Why the Angels Dance is a healing salve; it incites a cleansing catharsis; it serves as a holy image-maker, mending hearts and minds with glimpses of heaven's glory. It opens spiritual eyes. We are all on a collision course with the unknown. Will it be a plunge into darkness or a passing from one existence into a brighter one?
Two fathers, one in the light and one in darkness, each face the reality of that passage, and both struggle to find and apply the healing balm. Yet, God uses the faith of a child to reach out to the downcast—the hand of an extraordinary girl leads them to the healing they long for.
The reality of death meets the hope of the ages, and the victory comes in the visions and songs of a little girl. After reading I Know Why the Angels Dance, you will cherish life and family like never before, and the passage everyone must make will no longer be a leap into darkness. It will be a step into glory.
Genre - Adult Contemporary, Suitable for teenagers.