Books by Bryan Davis
Children of the Bard
Song of the Ovulum
From the Mouth of Elijah
Tales of Starlight
Masters & Slayers
Third Starlighter
Exodus Rising
Dragons of Starlight
Starlighter
Warrior
Diviner
Liberator
Novel
I Know Why the Angels Dance
Echoes from the Edge
Beyond the Reflection's Edge
Eternity's Edge
Nightmare's Edge
Oracles of Fire
Eye of the Oracle
Enoch's Ghost
Last of the Nephilim
The Bones of Makaidos
Dragons in Our Midst
Raising Dragons
The Candlestone
Circles of Seven
Tears of a Dragon
Non-Fiction
Spit and Polish for Husbands
The Image of a Father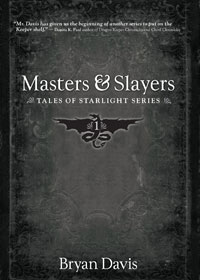 Masters & Slayers
First Chapter ~ PDF (613 KB)
Purchase from Bryan Davis
Purchase from Amazon
Purchase from CBD
Masters & Slayers
Tales of Starlight - book 1
Expert swordsman Adrian Masters attempts a dangerous journey to another world to rescue human captives who have been enslaved there by dragons. He is accompanied by Marcelle, a sword maiden of amazing skill whose ideas about how the operation should be carried out conflict with his own.
Since the slaves have been in bonds for generations, they have no memory of their origins, making them reluctant to believe the two would-be rescuers, and, of course, the dragons will crush any attempt to emancipate the slaves. Set on two worlds separated by a mystical portal, Masters and Slayers is packed with action.
ISBN-10: 0899578845, ISBN-13: 978-0899578842
Ages: 16 and up
Tales of Starlight series:
The dragons of Starlight have been enslaving humans for over a century. At long last, warrior Adrian Masters and sword maiden Marcelle vow to find the mysterious portal where the Lost Ones disappeared, hoping to rescue the slaves. Will they turn back when they learn that only the ultimate sacrifice can bring freedom to the oppressed?