Books by Bryan Davis
Children of the Bard
Song of the Ovulum
From the Mouth of Elijah
Tales of Starlight
Masters & Slayers
Third Starlighter
Exodus Rising
Dragons of Starlight
Starlighter
Warrior
Diviner
Liberator
Novel
I Know Why the Angels Dance
Echoes from the Edge
Beyond the Reflection's Edge
Eternity's Edge
Nightmare's Edge
Oracles of Fire
Eye of the Oracle
Enoch's Ghost
Last of the Nephilim
The Bones of Makaidos
Dragons in Our Midst
Raising Dragons
The Candlestone
Circles of Seven
Tears of a Dragon
Non-Fiction
Spit and Polish for Husbands
The Image of a Father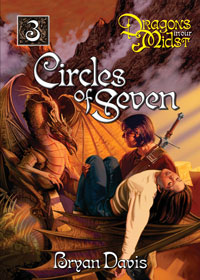 Circles of Seven
First Chapter ~ PDF (1.1 MB)
Purchase from Bryan Davis
Purchase from Amazon
Purchase from CBD
Circles of Seven
Dragons In Our Midst - book 3
In Circles of Seven, using their dragon traits and the wisdom they gained through their earlier adventures, Billy and Bonnie explore a multi-dimensional domain of evil. In this realm, they navigate seven perilous worlds, each one manifested in a circular plane of existence that leads them deeper into the domain of a powerful enemy.
The seventh circle holds a group of prisoners, captives of the evil mistress of the circles, and Billy has to find a way to set them free and give them new life. When tragedy strikes along the way, Billy has to face the most difficult decision of his life, whether to forsake Bonnie to rescue the prisoners or to find a way to save her, his best friend in the world.
Filled with action, danger, and suspense, Circles of Seven is sure to keep readers in their seats, following Billy and Bonnie to the exciting conclusion.
Dragons In Our Midst series:
This contemporary fantasy provides readers with adventure and excitement while opening their eyes to great themes such as faith, courage, wisdom, and redemption. Compared to The Chronicles of Narnia for its spiritual power and The Lord of the Rings for its depth of scope, this series has the makings of a classic. It inspires you to dig deep within to find your God-given strengths and use them to overcome any obstacle. It is both a hair-raising, modern-day adventure and a glimpse into another world—a world of knights and dragons. Recommended for ages 11 and up.