Books by Bryan Davis
Children of the Bard
Song of the Ovulum
From the Mouth of Elijah
Tales of Starlight
Masters & Slayers
Third Starlighter
Exodus Rising
Dragons of Starlight
Starlighter
Warrior
Diviner
Liberator
Novel
I Know Why the Angels Dance
Echoes from the Edge
Beyond the Reflection's Edge
Eternity's Edge
Nightmare's Edge
Oracles of Fire
Eye of the Oracle
Enoch's Ghost
Last of the Nephilim
The Bones of Makaidos
Dragons in Our Midst
Raising Dragons
The Candlestone
Circles of Seven
Tears of a Dragon
Non-Fiction
Spit and Polish for Husbands
The Image of a Father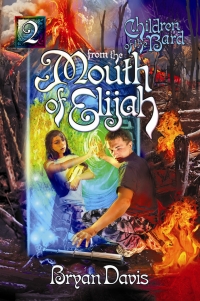 From the Mouth of Elijah
Purchase from Bryan Davis
Purchase from Amazon
Purchase from CBD
Chapter One
From the Mouth of Elijah
Children of the Bard - book 2
In From the Mouth of Elijah, Lauren and Billy set out on a journey to find Bonnie, hoping Lauren's gifted hearing can track down Bonnie's never-ending song. At the same time, Walter and Ashley search for clues to cure a mysterious disease that threatens to kill the original anthrozils, including Jared, who was once the great Clefspeare.

Both journeys are fraught with peril as Lauren and Matt are thrust into Second Eden, where a volcano, Mount Elijah, has erupted and devastated the land, killing many of the residents. Matt uses his gifts of healing to save some of the victims, and when he finds Bonnie, he engages in another life-or-death battle with Tamiel's forces in an attempt to free her.

In the meantime, Lauren learns that she is the only person who believes the cure to be possible, so she begins a search for it. Along the way, she gains an unusual companion who prepares her for a heart-wrenching decision. Her choice is simple: Sacrifice her own life or let the anthrozils die.
ISBN-10: 0899578810 ISBN-13: 9780899578811
Children of the Bard series:
In the tradition of Dragons in our Midst (DIOM) and Oracles of Fire (OOF), this series picks up fifteen years after the end of OOF with new characters and exciting adventures, filling in gaps from the past and launching readers into the future as well. This series continues the excitement readers have already come to expect from Bryan's storytelling expertise. Recommended for ages 13 and up.