Books by Bryan Davis
Children of the Bard
Song of the Ovulum
From the Mouth of Elijah
Tales of Starlight
Masters & Slayers
Third Starlighter
Exodus Rising
Dragons of Starlight
Starlighter
Warrior
Diviner
Liberator
Novel
I Know Why the Angels Dance
Echoes from the Edge
Beyond the Reflection's Edge
Eternity's Edge
Nightmare's Edge
Oracles of Fire
Eye of the Oracle
Enoch's Ghost
Last of the Nephilim
The Bones of Makaidos
Dragons in Our Midst
Raising Dragons
The Candlestone
Circles of Seven
Tears of a Dragon
Non-Fiction
Spit and Polish for Husbands
The Image of a Father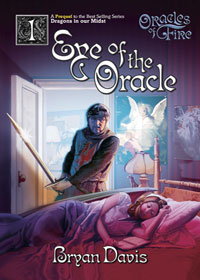 Eye of the Oracle
First Chapter ~ PDF (298 KB)
Purchase from Bryan Davis
Purchase from Amazon
Purchase from CBD
Eye of the Oracle
Oracles of Fire - book 1
#1 Best-seller, Eye of the Oracle, is the first in the Oracles of Fire series, a set of four books for young adults. This series inspires young people to pursue faith, courage, and love and to dig deep within to find their God-given strengths, no matter how difficult the circumstances.
This book is a prequel to the Dragon in our Midst series (DIOM), covering the events that led up to Raising Dragons, the first DIOM book. The second book in Oracles of Fire, Enoch's Ghost, picks up where Tears of a Dragon, the fourth book in DIOM, left off. Therefore, the second, third, and fourth books in Oracles of Fire are sequels to DIOM.
This book is designed to be read after the DIOM series and will launch a new adventure that continues through the next three books. Readers familiar with DIOM will recognize characters from that series and will be introduced to new ones as well. Readers unfamiliar with DIOM will have no trouble following this new story, because no knowledge of DIOM will be required.
Oracles of Fire series:
In the tradition of Dragons in our Midst (DIOM), this series introduces new characters and intriguing twists. Beginning with a prequel to DIOM, Eye of the Oracle launches an amazing story that takes readers back to the start of the dragon legends and traces their exciting adventures through to the point DIOM begins and ends. The second book, Enoch's Ghost, picks up where Eye of the Oracle and DIOM end. This series continues the excitement readers have already come to expect from Bryan's storytelling expertise. Recommended for ages 13 and up.