Books by Bryan Davis
Reapers Trilogy
Reapers
Beyond the Gateway
Children of the Bard
Song of the Ovulum
From the Mouth of Elijah
The Seventh Door
Omega Dragon
Tales of Starlight
Masters & Slayers
Third Starlighter
Exodus Rising
Dragons of Starlight
Starlighter
Warrior
Diviner
Liberator
Novel
I Know Why the Angels Dance
Echoes from the Edge
Beyond the Reflection's Edge
Eternity's Edge
Nightmare's Edge
Oracles of Fire
Eye of the Oracle
Enoch's Ghost
Last of the Nephilim
The Bones of Makaidos
Dragons in Our Midst
Raising Dragons
The Candlestone
Circles of Seven
Tears of a Dragon
Children's Books
Beelzebed
Non-Fiction for Men
Spit and Polish for Husbands
The Image of a Father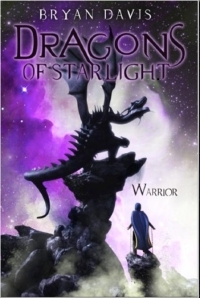 Warrior
First Chapter ~ PDF (445 KB)
Purchase from Bryan Davis
Purchase from Amazon
Purchase from Christianbook.com
Warrior
Dragons of Starlight - book 2
In book two of the Dragons of Starlight series by bestselling author Bryan Davis, the stakes are raised when the foretold prince is crowned. While Koren and Jason race to the Northlands of Starlight to find the one person who can help them free the human slaves, Elyssa and Wallace strive to locate Jason and assist his quest. Soon, all four discover that the secrets of Starlight extend much further than they had imagined. Meanwhile, Randall and Tibalt have returned to Major Four and find themselves teamed with the dragon Magnar, who has arrived to thwart the governor. No one knows how the prophecy will be fulfilled, but one thing is clear: more than ever, the survival of the dragons depends on humankind, and they will do anything to prevent the slaves from escaping.
ISBN-10: 0310718376, ISBN-13: 978-0310718376
Ages: 13 and up
Dragons of Starlight series:
In the second book in bestselling author Bryan Davisís Dragons of Starlight series, Jason and Koren travel to the mysterious Northlands to find help in their quest to free the human slaves from their dragon masters.