Books by Bryan Davis
Reapers Trilogy
Reapers
Beyond the Gateway
Children of the Bard
Song of the Ovulum
From the Mouth of Elijah
The Seventh Door
Omega Dragon
Tales of Starlight
Masters & Slayers
Third Starlighter
Exodus Rising
Dragons of Starlight
Starlighter
Warrior
Diviner
Liberator
Novel
I Know Why the Angels Dance
Echoes from the Edge
Beyond the Reflection's Edge
Eternity's Edge
Nightmare's Edge
Oracles of Fire
Eye of the Oracle
Enoch's Ghost
Last of the Nephilim
The Bones of Makaidos
Dragons in Our Midst
Raising Dragons
The Candlestone
Circles of Seven
Tears of a Dragon
Children's Books
Beelzebed
Non-Fiction for Men
Spit and Polish for Husbands
The Image of a Father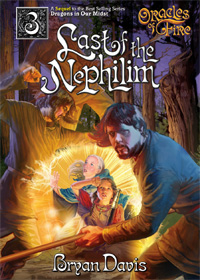 Last of the Nephilim
First Chapter ~ PDF (690 KB)
Purchase from Bryan Davis
Purchase from Amazon
Purchase from Christianbook.com
Last of the Nephilim
Oracles of Fire - book 3
A single lie is spoken, allowing the Nephilim, a race of giants from ancient times, to invade Second Eden, a peaceful civilization in an alternate dimension. While Earth and Hades are locked in a catastrophic merging of their two realms, the prophet Enoch works to gather an army of humans and dragons from each world to go to war against the Nephilim. Included in that force are a small girl with prophetic power who originated in the depths of Hades; Billy Bannister, the heir of Arthur and hero of the Dragons in our Midst series; and Bonnie Silver, his fellow warrior.
The two Oracles of Fire, Sapphira and Acacia, are called upon to protect the forces of good, including Bonnie, who is pursued once again by the most powerful of all dragon slayers, Sir Devin, the dragons' bane.
With giants battling dragons, and a rogue dragon taking the side of the forces of evil, a cataclysmic battle erupts, endangering every life in the land of Second Eden. Another of the Nephilim, the most powerful of all, rises from the dead to join the battle. But whose side will he be on?
Abraham, the leader of Second Eden, has a choice, either execute a grieving widow, the woman responsible for the entry of the evil giants, or face the greatest of sacrifices by which he can only delay the inevitable, the ultimate war that could lead the evil forces to the gates of Heaven itself.
Oracles of Fire series:
In the tradition of Dragons in our Midst (DIOM), this series introduces new characters and intriguing twists. Beginning with a prequel to DIOM, Eye of the Oracle launches an amazing story that takes readers back to the start of the dragon legends and traces their exciting adventures through to the point DIOM begins and ends. The second book, Enoch's Ghost, picks up where Eye of the Oracle and DIOM end. This series continues the excitement readers have already come to expect from Bryan's storytelling expertise. Recommended for ages 13 and up.