Books by Bryan Davis
Reapers Trilogy
Reapers
Beyond the Gateway
Children of the Bard
Song of the Ovulum
From the Mouth of Elijah
The Seventh Door
Omega Dragon
Tales of Starlight
Masters & Slayers
Third Starlighter
Exodus Rising
Dragons of Starlight
Starlighter
Warrior
Diviner
Liberator
Novel
I Know Why the Angels Dance
Echoes from the Edge
Beyond the Reflection's Edge
Eternity's Edge
Nightmare's Edge
Oracles of Fire
Eye of the Oracle
Enoch's Ghost
Last of the Nephilim
The Bones of Makaidos
Dragons in Our Midst
Raising Dragons
The Candlestone
Circles of Seven
Tears of a Dragon
Children's Books
Beelzebed
Non-Fiction for Men
Spit and Polish for Husbands
The Image of a Father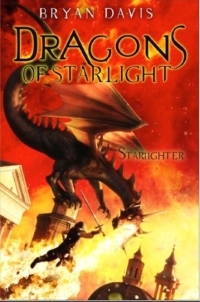 Starlighter
First Chapter ~ PDF (582 KB)
Purchase from Bryan Davis
Purchase from Amazon
Purchase from Christianbook.com
Starlighter
Dragons of Starlight - book 1
Dragons are enslaving humankind and a black egg signals the end of the world. Jason Masters must journey to another realm and join forces with a slave girl named Koren to rescue the captives and save two worlds from destruction. What if the Legends Are True? Jason Masters doubted the myths: people taken through a portal to another realm and enslaved by dragons. But when his brother is taken, he must uncover the truth and find the portal before it's too late. Once he's through the portal, he meets Koren, a slave in the dragonsí realm, who struggles to destroy a black egg prophesied to doom all mankind. Jason and Koren must work together to save their two worlds before the dragons learn that their secrets have been discovered. In Starlighter, bestselling author Bryan Davis masterfully weaves fantasy and inspiration into a captivating novel for young adults.
ISBN: 0310404762, ISBN-13: 9780310404767, UPC: 025986404765
Ages: 13 and up
Dragons of Starlight series:
In the first novel of a new four-book fantasy series for young adults by bestselling author Bryan Davis, human and dragon worlds collide when Jason Masters enters the dragon planet and meets Koren, a descendant of humans who were kidnapped and are now the dragonsí slaves.