Books by Bryan Davis
Reapers Trilogy
Reapers
Beyond the Gateway
Children of the Bard
Song of the Ovulum
From the Mouth of Elijah
The Seventh Door
Omega Dragon
Tales of Starlight
Masters & Slayers
Third Starlighter
Exodus Rising
Dragons of Starlight
Starlighter
Warrior
Diviner
Liberator
Novel
I Know Why the Angels Dance
Echoes from the Edge
Beyond the Reflection's Edge
Eternity's Edge
Nightmare's Edge
Oracles of Fire
Eye of the Oracle
Enoch's Ghost
Last of the Nephilim
The Bones of Makaidos
Dragons in Our Midst
Raising Dragons
The Candlestone
Circles of Seven
Tears of a Dragon
Children's Books
Beelzebed
Non-Fiction for Men
Spit and Polish for Husbands
The Image of a Father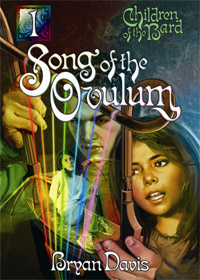 Song of the Ovulum
Link to first part of the book
Purchase from Bryan Davis
Purchase from Amazon
Purchase from Christianbook.com
Song of the Ovulum
Children of the Bard - book 1
It has been fifteen years since Billy and Bonnie Bannister helped repel the demonic assault on Heaven. Now they and Ashley sit in a maximum security prison where the authorities conduct experiments on them to learn the secrets of long life. Earlier, the world's acceptance of dragonkind crumbled, and the Enforcers took the infant twins born to Billy and Bonnie and stole Excalibur, hoping to develop a weapon to battle the dragons that are sure to try to rescue their allies. All the while, a great secret from the past is being revealed to Bonnie through a dream. Joran and Selah, teenaged children of Methuselah, have been trapped in a strange world for centuries, yet still able to manipulate certain events in our world during that time. The fate of all prisoners now rests on the Bannisters' two teenagers who must battle demons, a sorceress, and soldiers in a military compound in order to rescue parents they don't even know.
ISBN-10: 0899578802 ISBN-13: 978-0899578804

"It is You" - Song for the Book - Contest Winner
Written and Performed by Millard and Family (download mp3)
Children of the Bard series:
In the tradition of Dragons in our Midst (DIOM) and Oracles of Fire (OOF), this series picks up fifteen years after the end of OOF with new characters and exciting adventures, filling in gaps from the past and launching readers into the future as well. This series continues the excitement readers have already come to expect from Bryan's storytelling expertise. Recommended for ages 13 and up.