Books by Bryan Davis
Reapers Trilogy
Reapers
Beyond the Gateway
Children of the Bard
Song of the Ovulum
From the Mouth of Elijah
The Seventh Door
Omega Dragon
Tales of Starlight
Masters & Slayers
Third Starlighter
Exodus Rising
Dragons of Starlight
Starlighter
Warrior
Diviner
Liberator
Novel
I Know Why the Angels Dance
Echoes from the Edge
Beyond the Reflection's Edge
Eternity's Edge
Nightmare's Edge
Oracles of Fire
Eye of the Oracle
Enoch's Ghost
Last of the Nephilim
The Bones of Makaidos
Dragons in Our Midst
Raising Dragons
The Candlestone
Circles of Seven
Tears of a Dragon
Children's Books
Beelzebed
Non-Fiction for Men
Spit and Polish for Husbands
The Image of a Father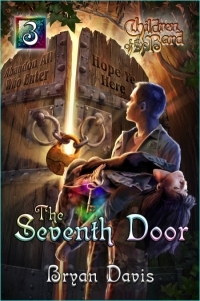 The Seventh Door
Purchase from Bryan Davis
Purchase from Amazon
Purchase from Christianbook.com
The Seventh Door
Children of the Bard - book 3
In The Seventh Door, an apocalypse approaches, and only Matt Bannister and his mother, Bonnie, can stop it. Forced to participate in the demon Tamiel's scheme, Matt, Bonnie, and Darcy, (Matt's former foster sister) must travel to seven destinations. Behind each of the seven doors, they find a unique brand of evil that is designed to weaken Bonnie's soul-healing song and bring about God's wrath upon the Earth.
In the meantime, Matt's twin sister, Lauren, searches for their father, Billy Bannister, who has been captured by Tamiel's soldiers. Lauren is accompanied by Walter, Ashley, and the dragoness Roxil in a desperate attempt to rescue Billy before his captors can carry out their plan to kill him.
Since Sapphira Adi has also been abducted, Elam, Yereq, Makaidos, and Thigocia travel toward a stronghold designed to keep Sapphira's fiery powers under control. Along the way, a great disaster strikes that threatens their journey as well as Matt's and Lauren's hopes to complete their missions.
By the time Matt and his companions face the seventh door, ancient mysteries are solved, dark secrets come to light, and they learn that opening the door will bring doom upon the planet. Yet, a great tragedy befalls the company, and the only remedy is to seek the power that lies behind The Seventh Door.
ISBN-10: 0899578829 ISBN-13: 9780899578828
"From the Ashes" - A Song from The Seventh Door
Click Here for the Sheet Music
Children of the Bard series:
In the tradition of Dragons in our Midst (DIOM) and Oracles of Fire (OOF), this series picks up fifteen years after the end of OOF with new characters and exciting adventures, filling in gaps from the past and launching readers into the future as well. This series continues the excitement readers have already come to expect from Bryan's storytelling expertise. Recommended for ages 13 and up.