Books by Bryan Davis
Reapers Trilogy
Reapers
Beyond the Gateway
Children of the Bard
Song of the Ovulum
From the Mouth of Elijah
The Seventh Door
Omega Dragon
Tales of Starlight
Masters & Slayers
Third Starlighter
Exodus Rising
Dragons of Starlight
Starlighter
Warrior
Diviner
Liberator
Novel
I Know Why the Angels Dance
Echoes from the Edge
Beyond the Reflection's Edge
Eternity's Edge
Nightmare's Edge
Oracles of Fire
Eye of the Oracle
Enoch's Ghost
Last of the Nephilim
The Bones of Makaidos
Dragons in Our Midst
Raising Dragons
The Candlestone
Circles of Seven
Tears of a Dragon
Children's Books
Beelzebed
Non-Fiction for Men
Spit and Polish for Husbands
The Image of a Father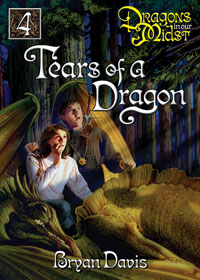 Tears of a Dragon
First Chapter ~ PDF (264 KB)
Purchase from Bryan Davis
Purchase from Amazon
Purchase from Christianbook.com
Tears of a Dragon
Dragons In Our Midst - book 4
Victory in the Circles of Seven came at a great cost to Billy Bannister and Bonnie Silver. A vicious evil was unleashed on the earth that only the dragons can defeat. With Billy's father, the great Clefspeare, missing, Billy and Bonnie must lead the dragons into war against the Watchers-demonic beings as old as the earth itself. Masters at the art of deception, the Watchers gather most of humanity to their side. A remnant of wise humans, the friends of the dragons, unites in the struggle against the Watchers. With heart-stopping action, the final battle between dragons and their enemies comes to a climax. But in order to win the war, at least one of the dragons must die.
As the story ends, Billy and Bonnie are faced with the greatest decision of their lives. Will they keep the dragon traits that have cost them so much danger and heartache, or will they turn to normal human life and end the slayers' lust for their blood forever.
Dragons In Our Midst series:
This contemporary fantasy provides readers with adventure and excitement while opening their eyes to great themes such as faith, courage, wisdom, and redemption. Compared to The Chronicles of Narnia for its spiritual power and The Lord of the Rings for its depth of scope, this series has the makings of a classic. It inspires you to dig deep within to find your God-given strengths and use them to overcome any obstacle. It is both a hair-raising, modern-day adventure and a glimpse into another world—a world of knights and dragons. Recommended for ages 11 and up.