Books by Bryan Davis
Reapers Trilogy
Reapers
Beyond the Gateway
Children of the Bard
Song of the Ovulum
From the Mouth of Elijah
The Seventh Door
Omega Dragon
Tales of Starlight
Masters & Slayers
Third Starlighter
Exodus Rising
Dragons of Starlight
Starlighter
Warrior
Diviner
Liberator
Novel
I Know Why the Angels Dance
Echoes from the Edge
Beyond the Reflection's Edge
Eternity's Edge
Nightmare's Edge
Oracles of Fire
Eye of the Oracle
Enoch's Ghost
Last of the Nephilim
The Bones of Makaidos
Dragons in Our Midst
Raising Dragons
The Candlestone
Circles of Seven
Tears of a Dragon
Children's Books
Beelzebed
Non-Fiction for Men
Spit and Polish for Husbands
The Image of a Father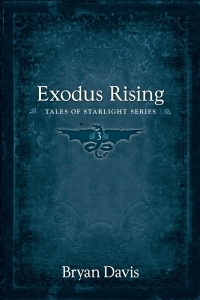 Exodus Rising
Read Sample Chapter
Purchase from Bryan Davis
Purchase from Amazon
Purchase from Christianbook.com
Exodus Rising
Tales of Starlight - book 3
In this third book of the Tales of Starlight series, Adrian Masters continues his relentless march toward the bitterly cold Northlands of Starlight. Ravaged by a deadly disease and accompanied by two children, Adrian carries Marcelle in a vegetative state, hoping Alaph, king of the Northlands, will supply a way to reunite her near-death body with her wandering spirit.
Time is of the essence. Invading soldiers from Major Four are marching toward the Southlands village to do battle against the dragon slave masters, but two great dangers await—the inescapable disease and the unpredictable Benefile, ageless and mysterious white dragons who will kill any infected humans.
All the while, Drexel, the murderer of Marcelle's mother, has taken on an impervious disguise as a male Starlighter and is using hypnotic powers to gain control of Mesolantrum with his sights set on the entire kingdom. Adrian and Marcelle must battle to free the slaves on one world and protect their own world from Drexel's malevolent plan or else the freed slaves will return to Major Four only to find another slave master. Performing both tasks seems impossible.
ISBN-13: 978-0-89957-899-6
Ages: 13 and up
Tales of Starlight series:
The dragons of Starlight have been enslaving humans for over a century. At long last, warrior Adrian Masters and sword maiden Marcelle vow to find the mysterious portal where the Lost Ones disappeared, hoping to rescue the slaves. Will they turn back when they learn that only the ultimate sacrifice can bring freedom to the oppressed?