Check out Bryan's New Web Pages:
Purchase and Information Page - Purchase Books and Other Products
This page will continue to be maintained, but it might not contain the newest information. See the pages above for the latest updates.
Bryan Davis is the author of Dragons in our Midst, Oracles of Fire, Children of the Bard, the Reapers Trilogy, Dragons of Starlight, Tales of Starlight and the Time Echoes Trilogy, seven series filled with fantasy, adventure, and mystery suitable for your entire family.
---
Latest Project...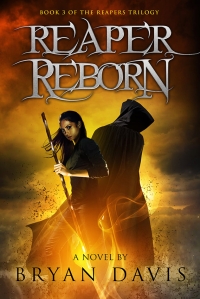 Reaper Reborn
Book #3 in the Reapers Trilogy
by Bryan Davis
The world is in chaos. Alex is sending powerful killing machines into Chicago to enforce her will, Reapers are being rounded up and executed, ghosts are everywhere with no one to collect them, and a cruel terrorist is strapping firebombs to children.
Reapers Phoenix and Shanghai come into possession of a mirror that once teleported its bearers wherever they needed to go. Alex is obsessed with stealing it, but so far no one, not even a heavenly Sancta who joins the Reapers, knows how to get it to work.
Hoping to stop Alex's rampage, the Reapers create a shaky alliance with a known murderer; battle against time, fires, and bombs to save children from incineration; and face near-certain death themselves at every turn.
All the while, Phoenix is slowly coming to realize that the only way to save the world is to face Alex one on one, knowing that doing so could result in the death of the person he loves more than anyone.
Reaper Reborn is book #3 in The Reapers Trilogy. Recommended for ages 13 and older.